Annie Patterson/Charlie King - Cincinnati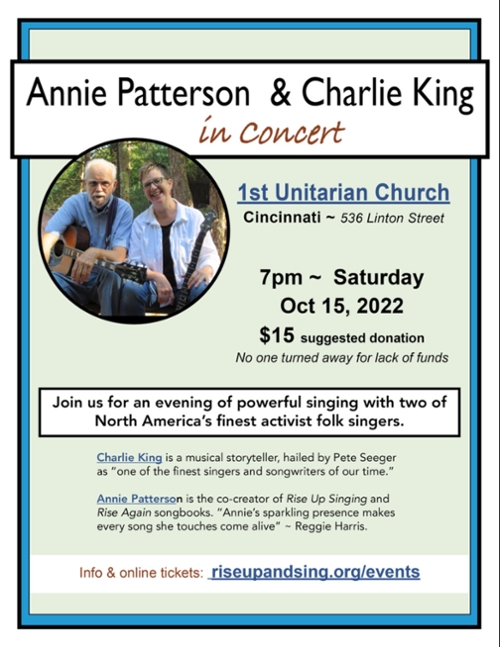 Saturday, October 15, 2022, 7:00 pm
First Unitarian Church of Cincinnati 536 Linton Street Cincinnati , OH 45219 United States
Join us for an evening of powerful singing with two of North America's finest activist folk singers on Saturday, October 15th. Charlie King and Annie Patterson are hitting the road again in October with a 9 city tour of the Midwest in October 2022. Live concerts can really help lift people's spirits, build community, and increase people's resilience to keep up their work to address the many challenges facing our communities, nation, and world!
They are excited to have the chance to perform in person again! COVID precautions will be in effect guided by local and venue guidelines for safety.
Charlie's wry political satire and his uncanny ability to find endearing songs about struggle and the human experience are a natural fit with Annie's own performing and sing-along work. Charlie and Annie have often recorded & performed together, including Annie's vocals on Charlie's 2017 CD "Life & Love, Tears & Laughter". They released a live album "Step by Step" early in 2019 and are taking this and a hatful of new songs on the road.
Posted to: Live In-Person Events.